CAREERS AT CRAFTSMAN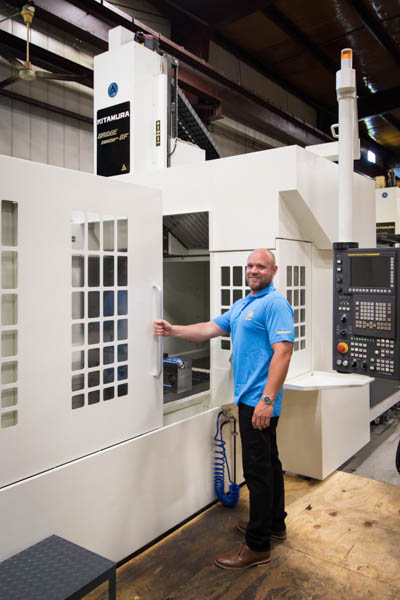 KITAMURA Bridge Center 8 - Capacity 43" x 130"
The staff at Craftsman Tool & Mold utilizes many of the most up to date software and technologically advanced systems in our industry. We are integrated with the Chicago Tool & Machining Association and have many employees involved in the nationally accredited apprenticeship program. One of our employees achieved Apprentice of the year in 2014.
Please see open positions below.
Carlos Santillan (L) 2015 & Ryan Hassett (R) 2016 Chicago TMA Apprentices of the year
Job Openings:
EXPERIENCED CNC MACHINISTS
Craftsman Tool & Mold, located in Aurora, IL, is a specialized manufacturer of high cavitation and large mold frames for the plastics and die cast industry. We are looking for experienced CNC machinists familiar in Mitsubishi and Fanuc controls. Must have at least 3 years of experience in the following: holding close tolerances within .0002; using various micrometers for measurement; editing G & M code programs; milling, boring and drilling operations; safe operating procedures. Candidates must be willing to work a minimum of 50 hours per week or more based on workload. Pay is based on experience.
Additional Requirements:
Proficient in reading blue prints and use of measuring instruments, such as micrometers and calipers

Possess good mathematical skills

Capable of meeting or exceeding productivity standards

Reliable in attendance and punctuality
The position is for permanent, full-time employment and includes benefits (medical/dental/401k/vacation), and is in a climate controlled, tobacco free environment. Compensation is based on knowledge and experience.
CNC 2nd SHIFT MACHINE OPERATOR - ROUGHING DEPT
Seeking a skilled CNC Machinist to add to our 2nd shift team. Ideal candidates will have experience in setting up and operating vertical CNC Machining Centers, and have a strong understanding of M and G codes. Experience with Mitsubishi and Fanuc controls is a plus.
Additional Requirements:
Proficient in reading blue prints and use of measuring instruments, such as micrometers and calipers

Possess good mathematical skills

Capable of meeting or exceeding productivity standards

Reliable in attendance and punctuality

Able to work 50+ hours per week on weekdays, as well as some weekends
The position is for permanent, full-time employment and includes benefits (medical/dental/401k/vacation), and is in a climate controlled, tobacco free environment. Compensation is based on knowledge and experience
To apply please submit your resume to Hiring Manager: This email address is being protected from spambots. You need JavaScript enabled to view it.